Passenger Door Pull Strap Trim
There's a pull strap on the passenger door. The trim pieces at the ends are unobtainable.
Not anymore.
---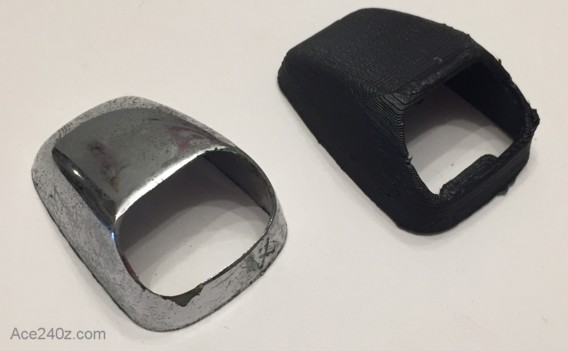 The early Zs have a pull strap on the passenger door. It bolts to the door frame and the bolts are covered by a small escutcheon made from plastic with a cheap chrome plating. If yours breaks or your car didn't come with them, your only solution was to buy a complete strap assembly. Nobody sells the covers separately. What a shame. However... somebody scanned one and made a 3D-printer file. Pretty much any town these days has someone who does 3D printing, so here's your chance to get a pair for cheap. A local guy made me a pair for just $35. They're not chromed and the surface is a little rough, but the original one next to it isn't a prize winner, either. A minute or two with an X-acto knife would clean the printed version right up. They're far, far better than seeing the strap mounting hardware. Against a black door panel they'll disappear. With a little sanding and some silver paint they'd look pretty close to stock but I'm content with it black. I found the 3D-printer file online for free, so I'm sharing it for free. Click
here
Enjoy.
---
Back to the Index page