Other Projects
I'm always building something. Here are some of the fun things I've built in the past.
---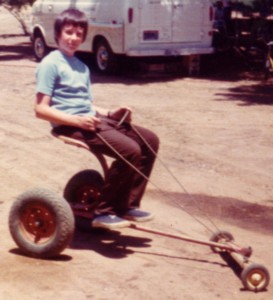 I was about ten years old when I created this. Our family was at a big party at a friends ranch. I spotted a riding sulky for a big riding mower - tractor seat, big tires, and a long yoke to connect to the back of the mower. I found a broken lawn chair with plastic wheels and an metal axle. I cut a 2x4 and nailed the axle to it, then drilled a hole and bolted it to the sulky. A piece of rope was perfect for steering. There was a long dirt road sloped at just the right angle. Instant entertainment for myself and the other kids. The men had been having a good time and drinking beer, and initially they laughed at my oddball creation, but when I started riding down the road they decided they should give it a try. After two of the men fell off, the women swooped in and dragged them away and nobody laughed at me after that.
---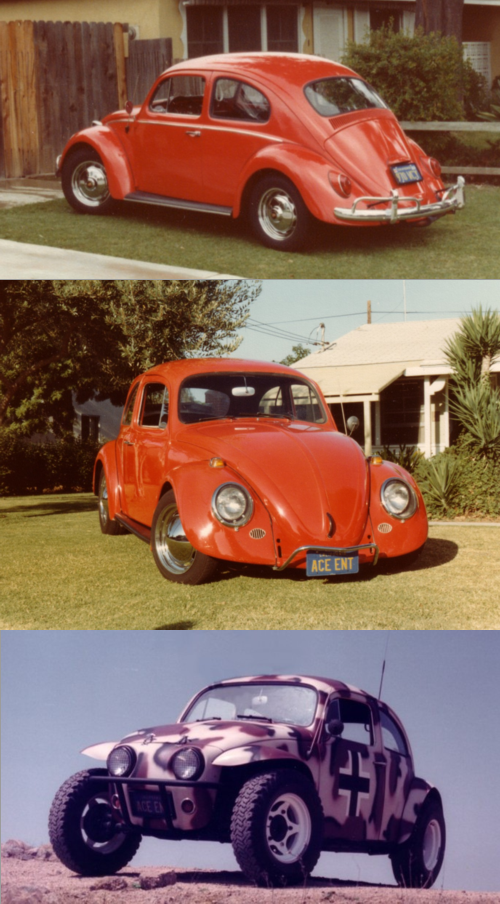 In 1978 I was 16, and Dad and I scouted around for a VW. I found this '64 and we rebuilt it in the backyard and painted it with the help of a friend. The bodywork lessons have always come in handy, as well as watching how it was upholstered in Tijuana. The car really turned out nice. Vintage Beetles were getting popular and mine stood out. A few years later I went for the "California Style" with the chrome stripped away and the front lowered. I still like that look. However... the years took a toil, and with paint faded and the fenders dented, the '64 was transformed into a hardcore Baja Bug that could go practically anywhere. I took a week's vacation, bought all the parts Saturday morning, and 8 days later I drove it out of Dad's garage. I did the chop, grafted on the fiberglass, raised the suspension, and bumped the little engine up to 1400cc. I got an beige Earl Scheib paintjob and used rattlecans to create the camoflage. The result was an absolute blast to drive. Thru the desert, over landscaping, crashing into shopping carts - you name it and that Bug would handle it. A few years later I sold it. Bye-bye, Baja Bug. After that I owned a '70 VW Microbus for quite a few years, but what worked well in California was a liability in Denver - super slow going up to the mountains and virtually no heat during winter. It eventually found a new home and I promised myself no more air-cooled VWs.
---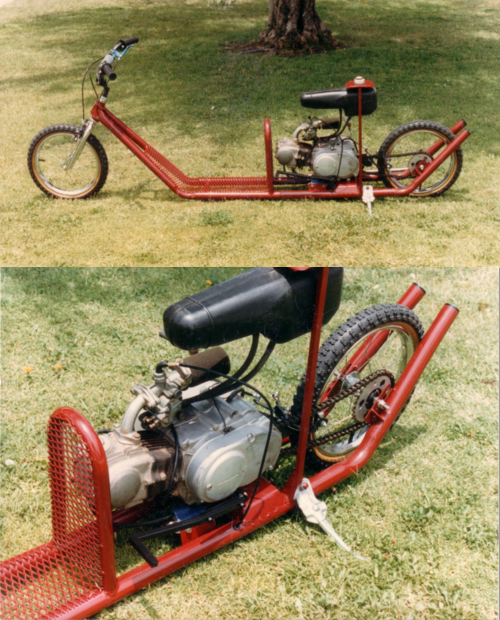 When I was a kid, Dad bought a 1970 Honda CT70, an odd-looking minibike with fold-down handlebars, a 3-speed transmission, and an automatic clutch. I grew up riding it around the desert and in the mountains until I got a "real" dirt bike, a Yamaha 125, when I was 13.
In the early 80s, little 50cc scooters were starting to pop up, so I decided to take it further using the little Honda engine. I bought a BMX bicycle and had a muffler shop bend some tubing. Dad was drafted for the welding. The result was something truly crazy. I hauled it out to a local dry lakebed and crouching down (and no helmet) was paced at nearly 60 mph.
Like with the Baja, I picked up a few new skills building the scooter. I ran the wireing and and brake cable thru the frame, made a straight exhaust (no muffler), welded the rear hub solid and added an aluminum sprocket, then gave it a pretty decent rattle-can paint job. It looked great and sounded terrific. A couple of years later I pulled the engine for another project. The rolling frame was sold to a couple of kids at the flea market. I hope they had fun.
---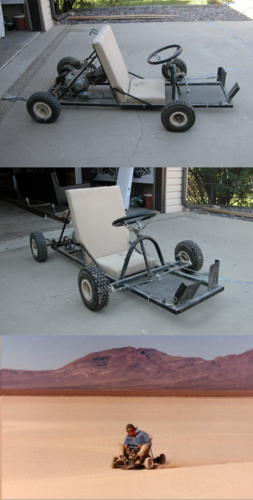 The long-suffering CT70 lived again in a tiny go-kart I built. I found a beat-up kart in a classified ad, pulled it apart, cut some new steel, and my friend Tom Pearson welded it all together. The seat was plywood covered with foam and canvas, the steering assembly was made with hardware store parts, and the Honda's kick-starter was converted to an awkward but functional pull-starter. Small and cramped, laughably crude - it was a blast on a dry lakebed. The bottom pic shows it being flogged by my buddy Mac. It ran for one weekend, then sat untouched for the next 15 years. When I gave the chassis away, it still had lake bed dust on it. The engine is sitting on a shelf in my garage. I'm sure it'll be used again.
---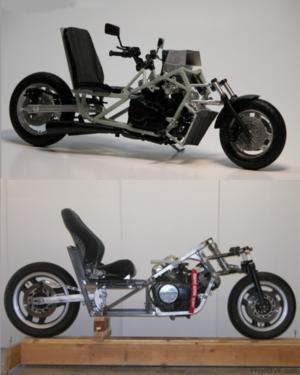 In 2010 I had been looking at recumbent motorcycles. Europeans love them, and racing legend Dan Gurney built a few, so I decided to give it a try. A Honda VF700 seemed like an ideal donor, so I bought a plastic model and made a scaled version of my vision. It turned out better than expected. I found a used Interceptor and did some CAD drawings. I eventually chopped the bike up, learned how to weld, did some research and experimenting, and built a proof-of-concept rolling chassis I call ProjectVF. I coasted it quite a few times down a road in some nearby hills, hitting about 25-30 mph. It rode and handled far better than I'd hoped. I tried several different versions of steering and suspensions, and ProjectVF proved to be a stable and comfortable 2-wheeled vehicle (despite the lack of an engine). I even made a little demo video, which you can find
here
. This was as far as ProjectVF went. I still have the rolling chassis but haven't touched it in years. I doubt it'll get finished but I sure had fun building it and picked up some valuable fabrication skills along the way.
---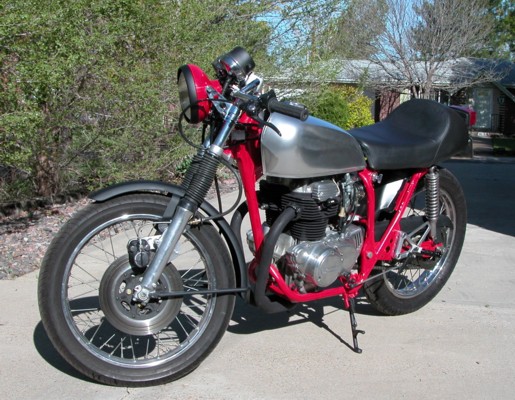 This was my most ambitious project (until now). I bought a very tired 1976 Honda CB360 and transformed it into a show-quality cafe racer. I stripped it down to the bare frame and started modifying. The hand controls are from a Kawasaki Ninja and the rearset footpegs came from a Honda Hurricane. No battery, no electric starter, no turn signals, and so on - just the bare minimum to legally ride it on the street. I tucked the remaining electronics under the seat and ran the wiring thru the frame. It looks a little pinkish in this photo but it's actually very bright red. It runs and sounds great. Being so small and lightweight, it's easy to tuck into corners. I've never had it on a track (too scared of crashing it) but a local business park with curvy roads was deserted on weekends so I used it for some "fast laps." You can see a brief video
here
. I created a website to show the various features and custom parts - you can reach it
here
. At the moment the bike is safely tucked inside my office. I took some photos and was rewarded with a half-page feature in Cafe Racer Magazine. I spent a lot of hours building it and I think the finished product was worth every minute.
---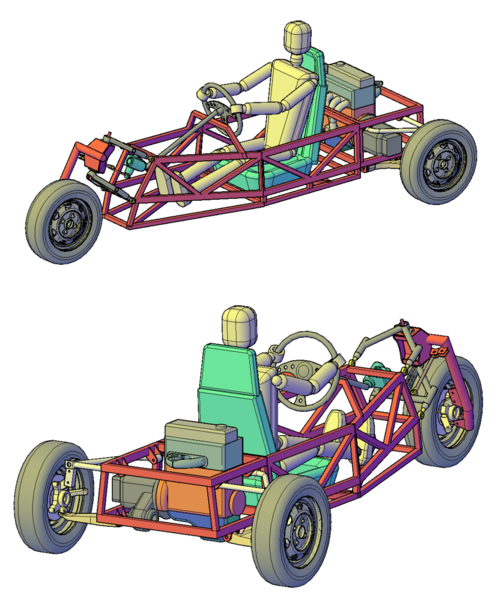 This is a project that was never built, at least not yet. The goal is a small, lightweight, single-seat commuter powered by a Geo Metro drivetrain relocated in the back. Most "modern" trikes have two wheels in front and one in the back because it's a fairly stable layout, but with the right engineering this layout can be just as safe and looks (at least to me) a lot better. The Nissan DeltaWing (see video at Le Mons
here
) is the perfect example of how this type of three-wheeler can perform. The Geo Metro engine is perfect, partly because used Metros are pretty cheap, and with a new body that's half the weight and far more streamlined, it should be faster and even get better gas mileage. On a horsepower-to-weight ratio, it's actually better than some sports cars. I think it would be amazingly fun to drive. I bought some suspension parts at a local salvage yard and used them to create 3D drawings, then designed the frame and steering and so on. Being able to see the concept from all angles made it easy to put it all together. I came very close to building it, going so far as buying a beat-up Suzuki Swift (same as a Metro) to use as the donor, but ended up laid off, which meant the money set aside for construction was used to pay the bills. Someday I'll get back to it, but for now the 240z is my focus.
---
Back to the Main Page