Other Projects
I'm always building something. Here are some of the fun things I've built in the past.
---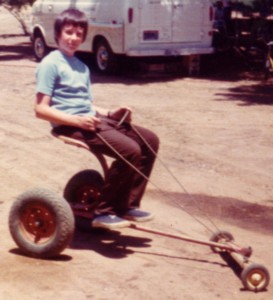 I was about ten years old when I created this. Our family was at a weekend party at a friend's ranch. I was bored until I spotted a riding sulky for a big riding mower - tractor seat, big tires, and a long yoke to connect to the back of the mower. I found a broken lawn chair with plastic wheels and an metal axle. I cut a 2x4 and nailed the axle to it, then drilled a hole and bolted it to the sulky. A piece of rope was perfect for steering. There was a long dirt road sloped down at just the right angle. Instant entertainment. The men were drinking beer and having a good time, and initially they laughed at my oddball creation, but when they saw how it worked they decided to give it a try. After two of them fell off, the women swooped in and dragged them away and nobody laughed at me after that.
---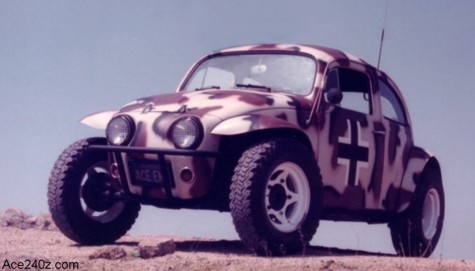 When I was in high school I got my first car, a '64 Beetle. Dad and I spruced it up in the backyard. It turned out pretty nice. Years later it was transformed into a hardcore Baja Bug that could go practically anywhere. I took a week's vacation, bought all the parts Saturday morning, and 8 days later I drove it out of Dad's garage. I did the chop, grafted on the fiberglass, raised the suspension, and bumped the little engine up to 1400cc. I got an beige Earl Scheib paintjob and used rattlecans to create the camouflage. The result was an absolute blast to drive. This was the project that gave me the confidence to do more complicated things.
---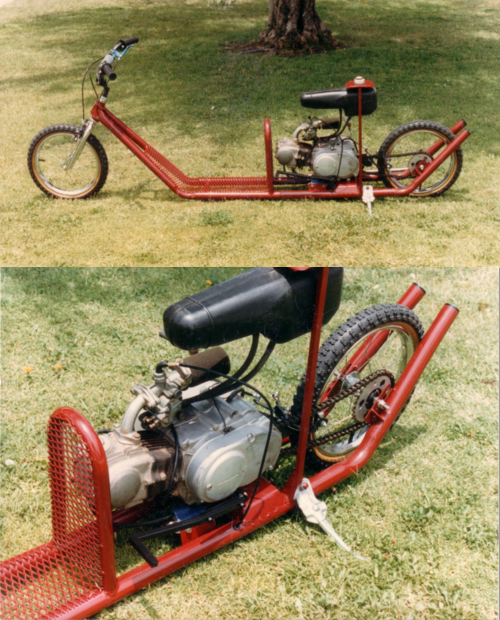 In the early 80s, little 50cc scooters were starting to pop up, so I decided to do something better. I used a little Honda CT70 engine with 3-speeds and an automatic clutch, then bought a BMX bicycle and had a muffler shop bend some tubing. Dad was drafted for the welding. I ran the wiring and cables thru the frame, made a straight exhaust (no muffler) and gave it a rattle-can paint job. It looked great and sounded terrific.
The result was something truly crazy. I hauled it out to a local dry lakebed and crouching down (and no helmet) was paced at nearly 60 mph. Like with the Baja, I picked up some new skills. Years later I pulled the engine for another project and sold the rolling frame to a couple of kids at the flea market. I hope they had fun.
---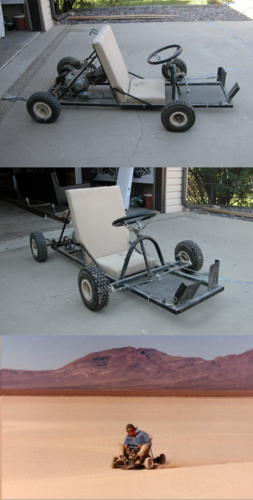 The long-suffering CT70 lived again in a tiny go-kart I built. I found a beat-up kart in a classified ad, pulled it apart, cut some new steel, and a friend welded it together. The seat was plywood covered with foam and canvas, the steering assembly was made with hardware store parts, and the Honda's kick-starter was converted to an awkward but functional pull-starter. Small and cramped, laughably crude but a blast on a dry lakebed. The bottom pic shows it being flogged hard. It was used for one weekend, then sat untouched with lake bed dust for the next 15 years. It was eventually pulled apart. The engine is sitting on a shelf in my garage. The frame was given away. hopefully it'll be used again.
---
In 2010 I had been looking at recumbent motorcycles. Europeans love them. Racing legend Dan Gurney built a few. I decided to give it a try. A Honda VF700 seemed like an ideal donor, so I found a 1:24 plastic model and made a scaled version of my vision. It turned out pretty nice. Click on the photo to see a larger version. I bought a used Interceptor and did some CAD drawings. I eventually chopped the bike up, learned how to weld, did some research and experimenting, and built a proof-of-concept rolling chassis I call ProjectVF. I coasted it quite a few times down a road in some nearby hills, hitting about 25-30 mph. It rode and handled far better than I'd hoped. I tried several different versions of steering and suspensions, and ProjectVF proved to be a stable and comfortable 2-wheeled vehicle (despite the lack of an engine). This was as far as ProjectVF went. I had fun building it and picked up some valuable fabrication skills along the way. Years later I chopped it up and the frame ended up in a landfill, which is a sad ending for something unique.
I made a little demo video. Take a look:
---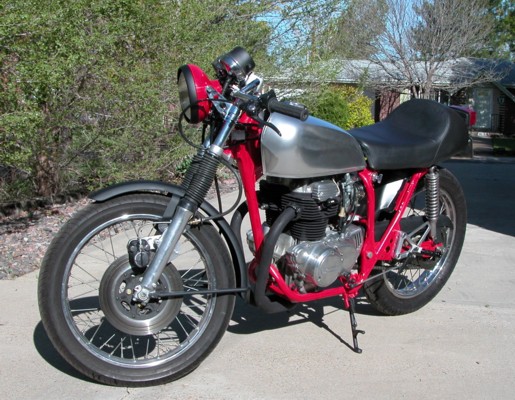 This was my most ambitious project (until now). I bought a tired 1976 Honda CB360 and transformed it into a show-quality cafe racer. I stripped it down to the bare frame and started modifying. The hand controls are from a Kawasaki Ninja and the rearset footpegs came from a Honda Hurricane. No battery, no electric starter, no turn signals, and so on - just the bare minimum to legally ride it on the street. I tucked the remaining electronics under the seat and ran the wiring thru the frame. It looks a little pinkish in this photo but it's actually very bright red. It sounds great. Being so small and lightweight, it's easy to tuck into corners. I've never had it on a track (too scared of crashing it) but a local business park with curvy roads was deserted on weekends so I used it for some "fast laps." You can see a brief video
here
. I created a website to show the various features and custom parts - you can visit it
here
. At the moment the bike is safely tucked inside my office. I took some photos and was rewarded with a half-page feature in Cafe Racer Magazine. I spent a lot of hours building it and enjoyed (nearly) every minute.
---
Back to the Main Page