How This Got Started
Many years ago, a good friend bought a 280z and I was immediately jealous. A few years later I poked around for one of my own.
---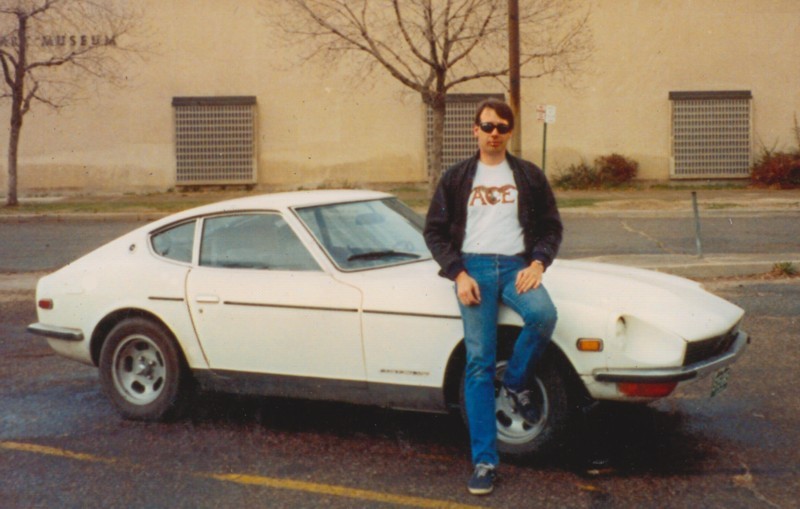 This was my '72 240z back in 1996. I loved it. Over the years I rebuilt the engine and suspension, found a 5-speed transmission, eliminated the rusted areas and even gave it a brand-new interior. Can you say "pride in ownership"? The local Z-club had a trackday and I was able to drive it the way it should be driven - fast! For reasons I can't remember, I lost faith in the car and sold it to a co-worker. Bad choice. Within a few months I regretted it. Ever since then I wanted to own another but things kept getting in the way. When I watched an episode of Wheelers Dealers where Edd worked on a lovely 240z, I couldn't resist any longer and the hunt was on. I saw several "daily drivers" in the $7-8k range, but some had too much rust, others had flared fenders or crappy paint, and so on. I decided that buying a beater and restoring it all at once would be better than buying something driveable and dealing with problems and breakdowns along the way.
---
For several months I scanned dry climate states on Craig's List for a rust-free 240z. This photo caught my eye. It was located a mere 90 minutes south in Colorado Springs, but the ugly aftermarket sunroof and lack of a title were deal killers. Two weeks later the owner dropped the price and said getting a new title for a car this old was fairly easy. It turned out he was right. I gave him a call and we started talking. I bought the car sight-unseen for $1800 with the caveat that when I saw it in person and decided it wasn't worth the price, I could walk away without him getting angry. The only difficult part of the deal was belatedly explaining to my amzingly patient wife that I'd bought another project. She (understandably) wasn't happy with the unexpected news, but she knew what these cars mean to me.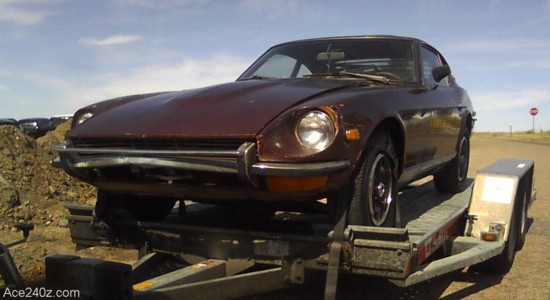 My friend Eddie is also a gearhead and came along to see the car. I have a history of buying less-than-stellar vehicles based on emotion, so my wife made me promise to listen to Eddie's opinion - if he said no, I couldn't buy it. We drove down and met the owner. It turned out he owned a 240z spec racer and had bought this one to be his street version, but other things got in the way and he decided to let it go. Eddie and inspected the beast - it was pretty rough but everything seemed to be there. It had a brand-new aluminum radiator, wider 280z wheels with nearly-new tires, and a surprisingly small amount of rust. The engine started right up amd without a muffler sounded great. The seats were in tatters and the flaking brown paint was hideous, but Eddie gave his nod of approval and the deal was done. We winched it onto a hauler and headed back to Arvada.
---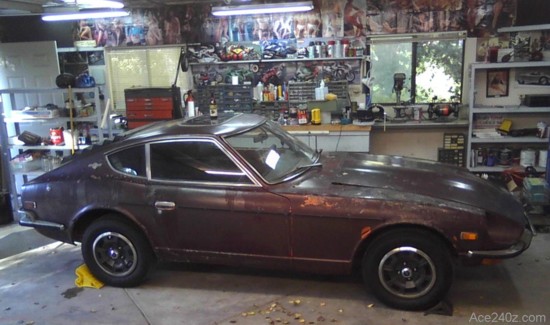 Here's the ugly duckling, safe and secure and ready to be reborn. I've got a pretty decent 3-car garage with a heater, air conditioning, a lifetime's accumulation of tools, and a beautiful array of 60s and 70s Playboy centerfolds circling the walls. I've done quite a few projects over the years and this one will be the biggest and most ambitious of them all. Despite the car's age, it's amazing how many new & reproduction parts are available. Within two weeks I spent the remaining budget on every part I could think of, such as suspension bushings and carpet and brakes and weatherstripping and glass rubber and sound insulation and struts and seat covers, and so on. There are boxes and boxes of stuff for when reassembly begins. As of today (November 2017) the total spent is a mere $10,700 but I expect it'll take another $4-5k before it's finished.
---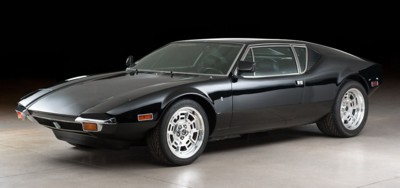 When finished, I could probably sell it for a handsome profit and have enough to money for a down-payment on a De Tomaso Pantera. They were built at the same time as the 240z and powered by a 428 Ford V8 pumping out 330 hp and a top speed of 156 mph, but why trade a dependable Japanese classic for a finicky Italian supercar? Wait - don't answer that.
---
Back to the Main Page